A LITTLE HISTORY…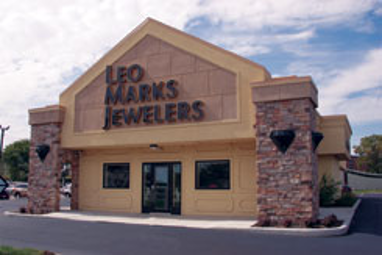 Leo Marks opened his jewelry store in downtown Toledo in 1916. After Leo passed on, his wife operated the business until it was sold to Philip Wasserstrom in 1962. Philip's son Joe is the current owner of Leo Marks Jewelers.
Philip found his passion in the jewelry business when he opened a jewelry store in Port Clinton, Ohio after World War II. Philip and his wife Rita had saved up the money to open the jewelry store while Philip was fighting in the famous Army Air Corp. The store that they opened was known as Philips Jewelers. While they only began their store with a few odds and ends, business began to thrive and Philip found himself buying up other jewelry stores in the Clinton area.
After some time, Philip's wife Rita began to miss her hometown friends and they decided to move back to Toledo. They purchased Leo Marks Jewelers at this time which was located at 508 Adams Street. Leo Marks remained there until 1978 when the store moved to the Southwyck Mall. In 1984, the store moved again, this time to the Westgate Shopping Center. As a massive overhaul began to take place at the Westgate location, Joe decided to move Leo Marks Jewelers to its current location on Secor Road in 2006.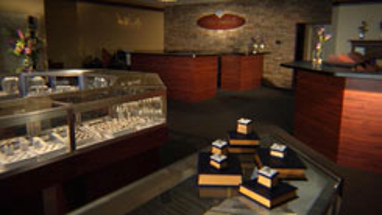 The building where Leo Marks Jewelers resides today was a Wendy's restaurant when it was first purchased. While it was not an inexpensive conversion, Joe believes that it was well worth it. Leo Marks Jewelers looks forward to staying at the Secor Road location for many years to come.
Philip's son Joe worked at the family business growing up during every Christmas season and during summer vacations. After high school, Joe attended Case Western Reserve and later Ohio State University where he graduated with a degree in industrial engineering. After spending a year and a half in California working for the elite General Dynamics Corporation, Joe moved back to Ohio where he earned an MBA from Bowling Green State in 1982. It was at this time that Joe joined the store full time. Joe's father Philip continued to work at the store until he was in his 80's. Philip passed away in 2007 at the age of 89.
LEO MARKS TODAY…
Today, Leo Marks Jewelers employs 10 full time staff members. Each staff member is highly trained for each service that we provide. All staff members are full time employees. Our staff members have an average seniority of 18.5 years with the company. As we specialize in diamonds and bridal jewelry we have 1 GIA Gemologist and 2 GIA Diamond Graduates as well.
Customers who shop with Leo Marks or use any of our services refer us to everyone they know. Family members that shopped with Leo Marks Jewelers in the early days are now bringing their children and grandchildren to Leo Marks to experience the uniqueness in the jewelry business that Leo Marks offers. Customers feel like they are part of our family from the very first moment they walk through the door. We pride ourselves on playing a role in our customers most precious life moments.
Leo Marks sells top of the line fine jewelry, is a jewelry buyer, offers custom designed jewelry, performs in house jewelry repair, in house jewelry modifications and jewelry appraisals. Leo Marks also offers their customers the option to borrow money against their jewelry. All of these services make Leo Marks the premier jewelry store in the Toledo Area.